SKU: 100248
Model Number: YP117
CoreBody Reformer®
Combines three core-focused exercises in one – strength for sculpting and toning, stretching for flexibility, and cardio for fat blasting all at the same time! With every movement on the CoreBody Reformer®, you engage your core and then use the core to transform the rest of your body.

Plus, to help you achieve even faster results, the CoreBody Reformer® comes with everything you need to succeed: four incredible workouts, nutrition plan, success tracker, washable cover, carrying strap and on-the-go workout cards.
Product Rating

Product Features
Dozens of exercise options designed specifically to reform a woman's body
Portability – the entire unit folds into a convenient tube that can be carried over the shoulder for easy transportation
Padded tube and cover allow for versatile training and stretching options
Three levels of resistance allow the user to "grow' with the product: Low (3 lbs), Medium (6 lbs), and High (9 lbs)
Also Included with Every CoreBody Reformer® Purchase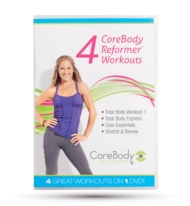 4 Different Complete Workouts ($60 Value) on 1 DVD. Total Body One, Total Body Express, Core Essentials and Stretch & Renew, each combining yoga for flexibility, dance for cardio and Pilates for core strength. Whether you have time for a full-body workout or just a quick energy boost, these fun, flexible routines make sure you never get bored. Approximate Running Times: 43:08, 25:10, 19:53 and 37.17.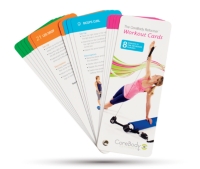 Go-Anywhere Fitness Flip Cards ($16 Value) illustrating more than 32 exercises unique to the CoreBody Reformer®. As your strength and flexibility increases, so does the intensity of the exercises, with options for anyone, beginner to advanced. The cards include 8 recommended workouts and are color coded for target areas.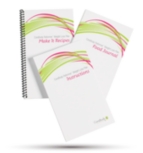 Weight Loss Plan ($30 Value) to help you customize a balanced diet of carbs and protein to maximize energy gain and fat loss. Whether you're dining out or eating in, the Weight Loss Plan shows you how to enjoy your favorite foods – while losing weight.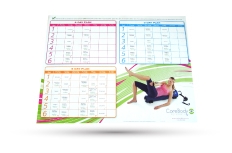 A Workout Poster ($10 Value) is an inspiring visual reminder of how fast you're seeing results, by keeping track of your progress week by week as you advance through the program.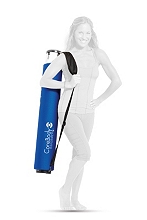 A Carrying Strap that makes it easy to take along everything you need for a complete CoreBody Reformer® workout, no matter where you go.
Blue Washable Cover ($35 Value) keeps the CoreBody Reformer® looking – and performing – as good as new.